The Movit Line Also Includes:
The Movit® Barricade - Now proudly manufactured right here in the USA. Many people consider American manufacturing a thing of the past. But at MLR International, we believe it's an important part of our present, and our future. We are proud to support hard-working Americans by manufacturing our flagship Movit® barricade in New Baltimore, MI. We look forward to continuing our tradition of excellence in quality - all while contributing to the local, state, and national economy.
The premier plastic crowd control solution in the US market. Ideal for both indoor and outdoor use, the Movit® barricade's patented design (U.S. Patent No. 9,771,736) is the most visually appealing pedestrian barricade available today. An attractive and affordable steel barricade alternative, the Movit® barricade is the only barricade with stanchion compatibility, and its unique one-piece design and interlocking ends provide for a strong and durable crowd control experience. The Movit® barricade's strengthened polypropylene formula is recyclable, environmentally friendly, and will never rust, chip, or scratch. The Movit® crowd control barricade's unique double sided locking mechanism even allows the unit to span uneven ground. These plastic barriers are lightweight and easy for work crews to handle and arrange. Yet at just under 26 Lbs, these traffic safety barricades can effectively handle crowds and lines. The Movit® line comes in a variety of popular colors and has a built-in plug and play branding area perfect for marketing, advertising, and safety messaging. With all these advantages, it is no wonder that the Movit® has been so successfully used at hundreds of prominent events all around the world.
The Movit® is so special, it has even been used at art! The Movit® is prominently displayed in the permanent collection of the National Gallery of Victoria, Australia's oldest, largest and most visited art museum! The barricade is featured in the the assemblage titled  Noble Ape - created by acclaimed artist Louise Paramor in 2013!
REDWHITEYELLOWGREENBLUEORANGE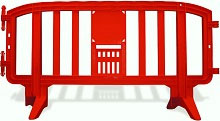 RAL# 

3020

| PANTONE# 

485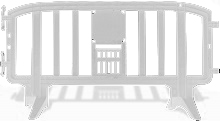 RAL#

9016

| PANTONE#

1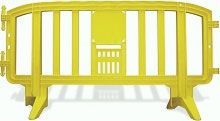 RAL# 1018 | PANTONE# 123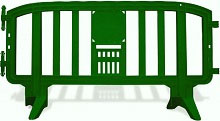 RAL# 

6002

| PANTONE# 

349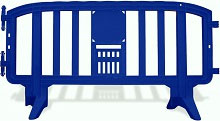 RAL# 5017 | PANTONE# 2945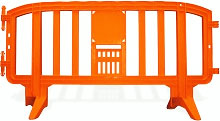 RAL# 2009 | PANTONE# 172
Tech Specs
Applications
Advantages
Accessories
Length: 
6'6" (78")
Height: 
3'3" (39")
Weight: 
24 lbs. (10.9 kg)
Accepted Load: 
1102 lbs. (500 kg)
Thermal Resistance: 
+131F,-4F (+55C,-20C)
Available Colors: 
Red, White, Yellow, Green, Blue, Orange
Shipping and Handling:
Ships via LTL
U.S. Patent No. 9,771,736
Movit® measurements
The Movit® is perfect for:
•  Parking
•  Restaurant
•  Street Fairs
•  Carnivals
•  Construction Sites
•  Police Activities
•  Ski Resorts
•  Private Pools
•  Sporting Events
•  Universities
•  Military
•  Concerts
•  Airports
•  Stadiums
•  Parties
•  Camps
•  Rental Companies
•  Malls
•  Casinos
•  Convention Centers
•  Theatres
•  Zoo
• Manufactured in polypropylene
• Recyclable
• Does not rust
• Can span uneven terrain
• Lightweight and easy to handle
• Quick interlinking units
• No removable feet - no weak points
• Customizable
Stanchion Compatibility
MLR is proud to present the first barricade on the market with stanchion compatibility! Compatible with most major brands, this feature enables the Movit barricade to interconnect with crowd control stanchions - enabling new safety configurations and maximizing the utility of each venue or facility's existing traffic safety equipment. Click here for more pictures!

Personalized Logos
Movit® barricades offer an excellent opportunity for all sorts of branding. Be it advertising, promotional materials, or event directions via labels, screen-printing or posters, the Movit® barricades can do it all. The Movit® barricade can be more than just a barrier, it can be a portable billboard, allowing your message to be seen every 6 feet. Movit® your way!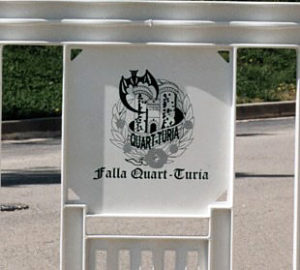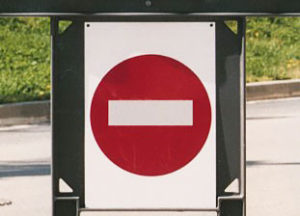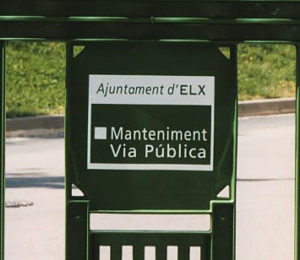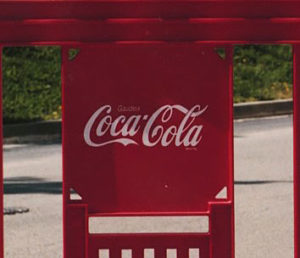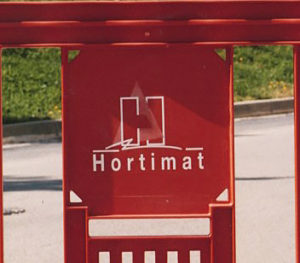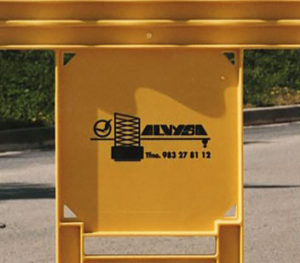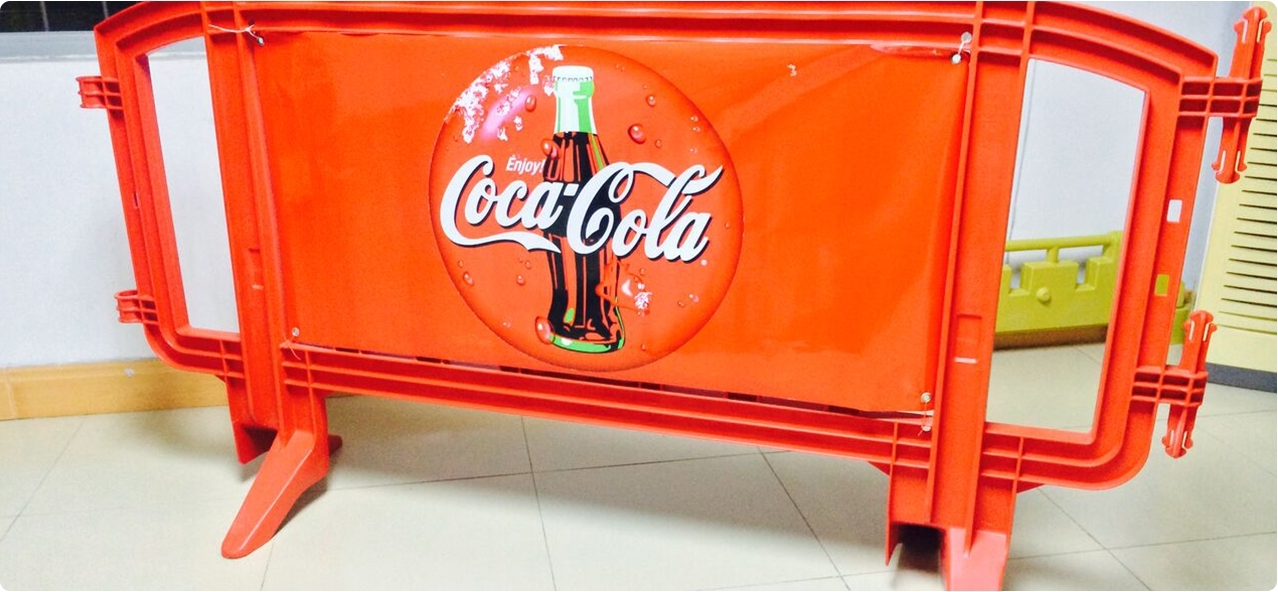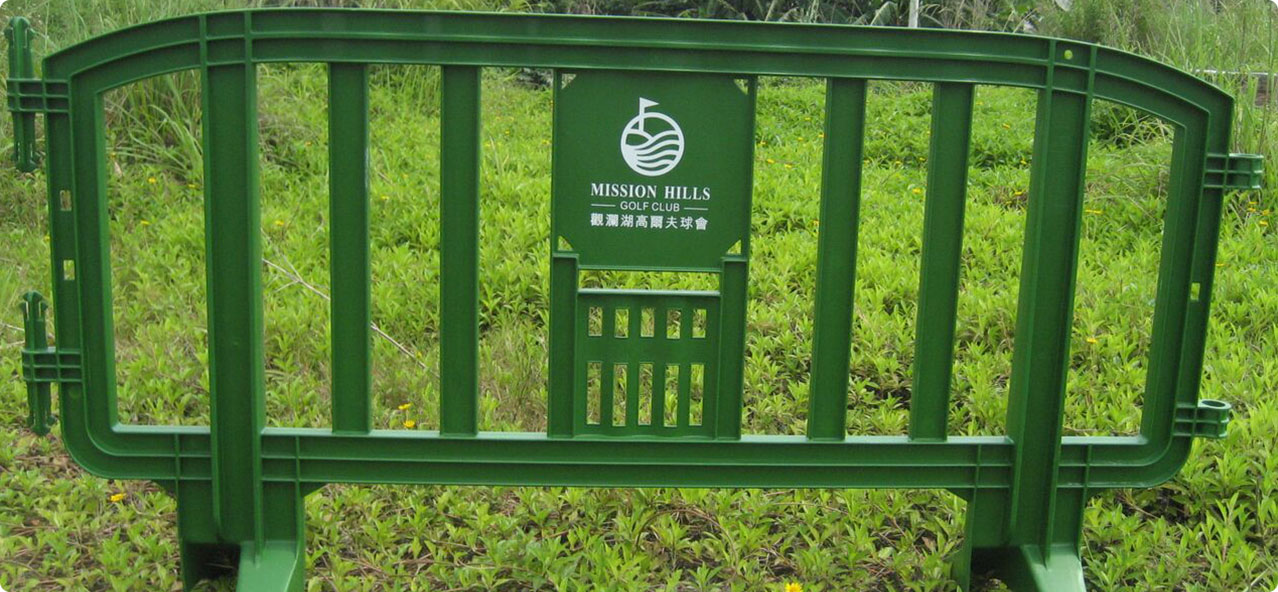 Never Fear, The Movit's Here
Now you can replace old, rusting metal fence barriers with a modern and functionally designed Movit® barricade. Don't let you and your products get left behind. Stay ahead of the curve with the only one piece plastic barrier on the market.