The Xpandit® is the long lasting indoor safety solution you've been waiting for. The Xpandit® is the perfect device for any demarcation situation. Sturdy, durable, and highly visible, the Xpandit® makes it clear; "Don't come near." With a storage size of just over 1 ft., and a total possible span of over 11 ft., the Xpandit® is the premier plastic expandable barricade on the market, and a must have product for any facility safety inventory. Easy to handle and set-up, this portable plastic barrier can be quickly deployed by a single worker, and its lightweight design makes lifting it a breeze. The Xpandit's state-of-the-art plastic design also comes with several advantages. The Xpandit® wont rust or chip, is both di-electric and heat resistant, and never needs to be repainted. With no sharp edges, dangling parts, or dangerous metal corners, the Xpandit is the most KID-FRIENDLY barricade on the market. Looking to make this portable expandable barricade even more effective? Use the built-in interlocking hook system to link Xpandit® units to each other, allowing you to block off even the most oddly shaped areas. Lastly, the Xpandit® comes with detachable wheels, ensuring that arranging and transporting the barricade within a space is a breeze.
Trust it. Love it. Demand it. Xpandit®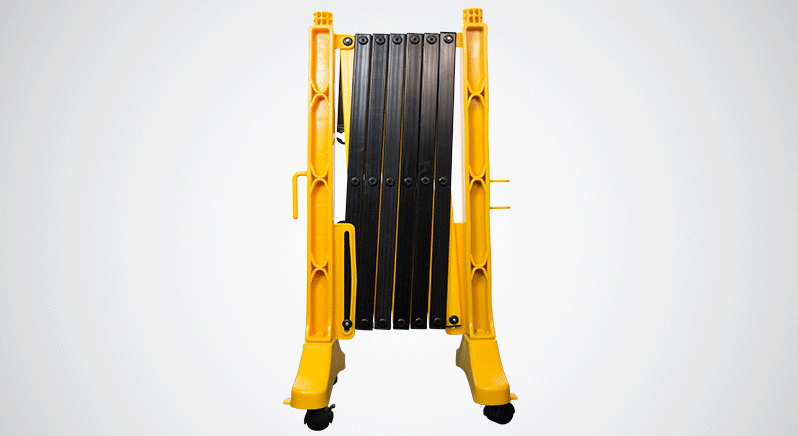 The Xpandit® is the only expandable barricade on the market with a Double-Latch System
to ensure maximum durability, portability and safety
| | | |
| --- | --- | --- |
| MLR International's Xpandit® | Features 2 Latches  | Other Products Only Have 1! |
| | | |
Tech Specs
Applications
Advantages
Accessories
Quality Testing
Shipping & Handling
Length (open): 3.5M/11' 5" (138")
Length (close): 0.42M/16.5"
Height: 0.94M/3' 1" (37")
Weight: 6.85kg/15.1 lbs
Thermal resistance: (+)55C (-)20C = (+)131F (-)4F
Color:  Yellow/Black
Features Two Hooks To Help Stabilize The Unit While Closed
Recyclable Material
Minimal Assembly required
Wheels/Casters Included
Shipping and Handling: Ground Carrier
The Xpandit is perfect for:
• Theme Parks
• Hotels
• Airports
• Elevators
• Stores
• Parking Garages
• Restaurants
• Maintenance Companies
• Convention Centers
• Escalators
• Schools
• Recreation Centers
• Does not rust
• Recyclable
• Easy to handle and maintain
• Lightweight
• Detachable & Lockable Wheels
• Sturdy
• Durable
• Simple to operate
• Temperature resistant
• Di-electric
• Does not damage flooring
• Links together
Quality control tests are performed for durability, compression, distortion, water-resistance, and other variables associated with product integrity.